We picked up a middle-aged Japanese guest from the port at about midnight as he arrived with the catamaran from Sicily. He was not in a good mood as he said he didn't like the Sicilian attitude. It was the first time I had come across an angry Japanese in my life.
The first thing he said next morning at breakfast was. 'I have 2 questions. Where is the closest supermarket that sells cat food and where is the cat village?'
The cat village in Spinola road St Julians: https://goo.gl/maps/4XfpeDQmojQ2 is actually on Google maps! It is not a big village where lots of cats hang out but a makeshift corner where a woman called Rosa put some kennels and soft toys and feeds cats every day. However, Rosa is one of many, Maltese women, men and foreigners living in Malta, who feed cats.
There is quite a large number of stray cats on the Maltese islands. Cats can easily survive the winters here as the temperature hardly ever goes below 8 degrees Celsius at night. During the day it is about 14 degrees. In summer the temperature goes up to an average of 33 degrees and for a few days it could soar up to 37 and higher – that is when we have a heatwave! Notwithstanding, cats can survive quite happily in the Maltese type of climate.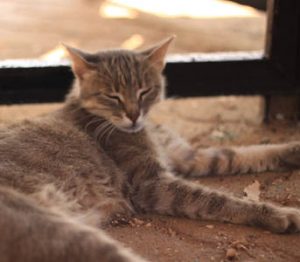 Another place in St Julians/Sliema where cat colonies thrive as people feed them on a regular basis is Independence gardens in Balluta bay https://goo.gl/maps/degxtMMnoCN2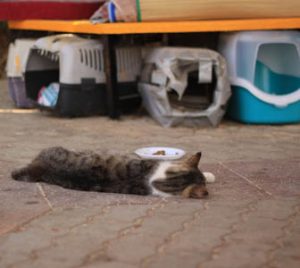 As our homestay (Giljana) is only a few minutes away from this garden, I went to see what cats do on a hot afternoon in the heat of August. There I found cats sleeping on and under benches. They had food which they hardly ate and they had water, but most of all they had shade and small cat boxes where they could sleep. People sat down next to the cats and some patted them. There was an aura of slumber and peaceful bliss as the afternoon heat seemed to drug the cats into a deep sleep. The cat area of this garden has become cats' haven where people can go to. They can feed them, watch them, pat them or just sit by them.